The Only True Visa Crypto Credit Card has Arrived
Since 2014 my family has gone through a myriad of crypto pre-paid debit card companies. Each card required a payment of a few hundred Dollars to order the card. Then we had to wait for delivery not knowing if the cards would work for us as digital nomads. We would deposit Bitcoin to the cards and then visit an approved ATM.  Sadly only two cards ever worked for us and both of them ended up canceling our cards without good reasons. Not having a reliable crypto off-ramp makes for a big headache for digital nomads who get paid in cryptocurrency.
Now we have an option that will function worldwide. The best part is that it is not a pre-paid debit card! It is an actual Visa credit card! The Connect Financial Cryptocurrency Credit card has arrived. 
How The Connect Financial Visa Credit Card Works.
Deposit the cryptocurrency of your choice and Connect Financial will extend a line of credit based on a percentage of the value of your crypto. 
In order to receive better rates, benefits, staking rewards, and yields on deposited assets you can stake Connect tokens. 
The Connect Card allows you to pay your balance in fiat or in crypto. You can also liquidate your crypto when you choose and withdraw in fiat or crypto.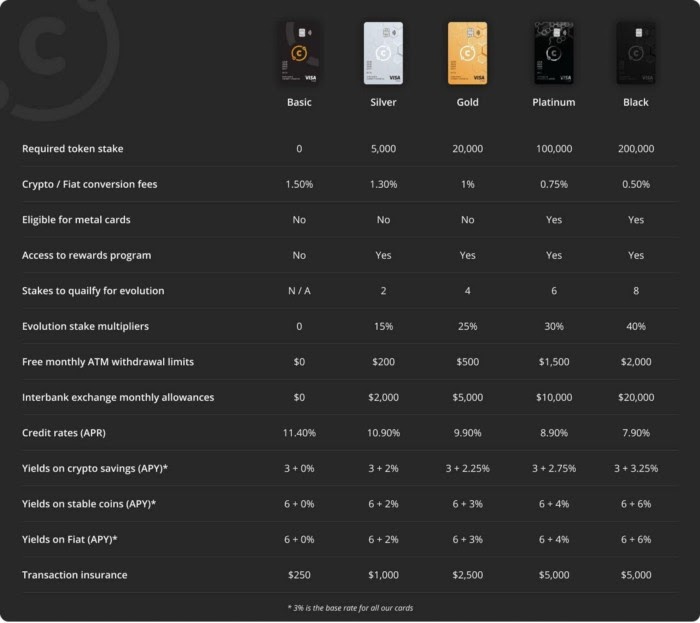 Holding and staking Connect tokens gives you access to higher tiers of earnings with their world class Visa crypto credit cards. The crowdsale ends on 12/28 or until sold out.
Connect Tokenomics
Connect Token Total Supply: 108,500,000
Initial Membership: 60,000,000
Market Liquidity Pool: 10,000,000
Advisor Pool: 8,500,000
Team Lockup (1 year): 10,000,000
Reward/Card Lockup: 20,000,000
There are a total of 60,000,000 Connect Tokens available for membership at an initial value of $0.10 USD each
Why I Think Owning Connect Token is Wise.
Over the last few years we have watched two crypto debit cards and their associated cryptocurrencies rise to the top 50 in crypto market cap. The Connect credit card offers us a true Visa Crypto Credit Card! We will also be able to manage assets within the associated mobile app. In my humble opinion this is a recipe for success in crypto.
Follow Connect Financial Across Social Media.




2020-12-28 19:15:00

Randy Hilarski

Crypto Daily™

Source link